Her Life As A Smart Reader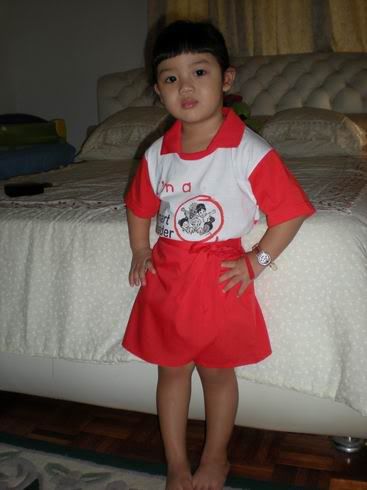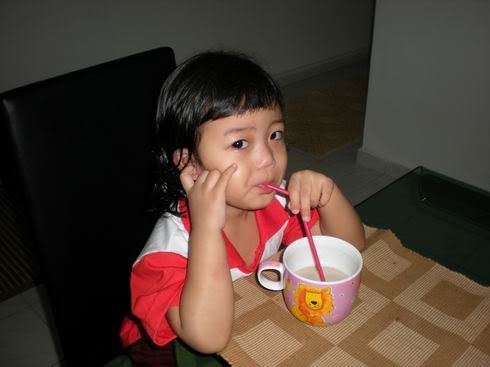 It's January 5, 2009. As of today, I am oficially a smart reader kid. Thank you Pa & Ma, for providing me with education at an age as early as three.
I am positively looking forward to being a smart reader student. Hope to learn as much and as fast as I could.
After taking shower, I had some breakfast which Ma fixed for me. Then we're ready for school! Note that my hairstyle has been done to fit my image as a student.
Have a great day, everyone!
Posted at 09:49 pm by Nayniss' Aunt
Permalink
April : Just A Teaser *wink*
Posted at 02:43 am by Nayniss' Aunt
Permalink
Just sharing this bit of news, to those who havent been here for a long time.. that Lil Nayniss is now a Smart Reader Kid...
how time flies...
Posted at 12:09 pm by Nayniss' Aunt
Permalink
The One With Balik Kampung Story
this year, it's our time to balik Raya at Darul Makmur..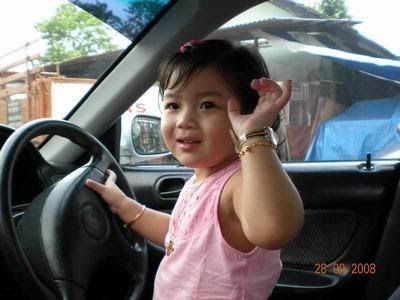 take care people..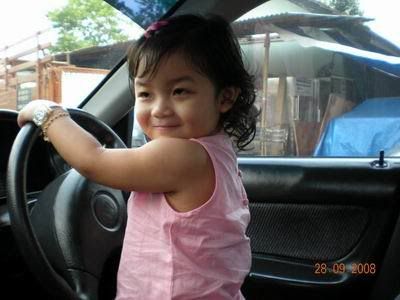 okay... driving away now...
Posted at 11:30 am by Nayniss' Aunt
Permalink
Once called Mee Mee by her, and now it's Uncle Fahmy, full pronunciation. Alhamdulillah, dia tak begitu pelat. Quite articulate, I'd say. Kalau pelat pun tak lama. For instance, months ago she couldn't really sebut words with letter 'r'. Letter 'r' would be replaced with 'l'. E.g. instead of 'rabbit' she'd say 'labbit'.
But today, labbit is now rabbit. Mastula becomes Mastura.
Yalah, orang ada Uncle Fahmy.. kita ni tak ada Uncle Fahmy... itu yang cucuh bunga api Uncle Fahmy, main bunga api dengan Uncle Fahmy, sampai bunga api yang dah tak menyala pun suruh Uncle Fahmy juga buangkan dalam baldi. Ibbit ngan Maklong offer nak buang pun dia tetap nak Uncle Fahmy juga...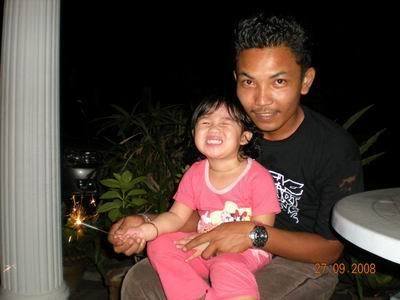 ni semua masa dah end of Ramadhan... Mama dia biasalah kat bakery... Papa on the way back from work..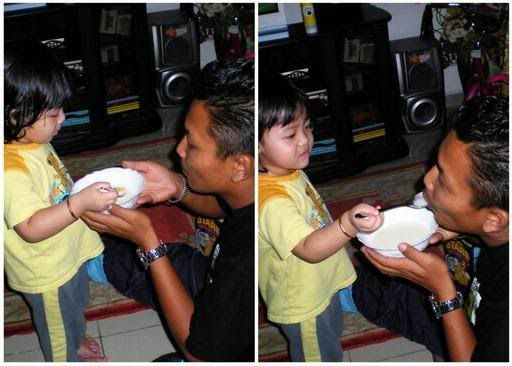 Later on, makan pula Honeystar. Pun on a sharing basis with Uncle Fahmy dia. Tengoklah tu.. bersuap-suap plakkk... kalah wife Uncle Fahmy heheheh...
Yalah... orang ada Uncle Fahmy....
Posted at 10:30 am by Nayniss' Aunt
Permalink